Photos I shot from around town:
You can also find some of my photos on my Flickr page: https://www.flickr.com/photos/lukeotterstad/
Below is a compilation of photos and audio that I aided in capturing and editing while working with SacCityExpress.com
Marijuana Podcast by saccityexpress, editing and narration by Luke Otterstad
Knife-wielding man shot, injured by police
October 26, 2009
by Luke Otterstad | Online News Editor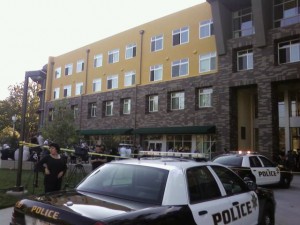 Police have identified student Quran Jones as being allegedly responsible for beating roommate Scott Hawkins to death in a Sacramento State dorm room, according to a Sacramento State press release.
After officers responded to the room for reports of a disturbance, Jones was shot by police as he charged them with a knife, Sacramento State President Alexander Gonzalez said at a press conference, Thursday.
The shooting took place after Jones apparently attacked the victim with what police believe was a baseball bat.
Both students involved were taken from the American River Courtyard Residence Hall on stretchers; Hawkins later died at UC Davis Medical Center.
Jones is currently in stable condition after undergoing surgery for gunshot wounds, and is under arrest for attempted murder of a police officer and an open count of homicide, according to a Sacramento State press release.
The event has been labeled an isolated incident by police and the campus has been declared safe.
American River Courtyard opened earlier in the fall semester. The residence has room for about 600 students and is intended for students in their second year or above.
Stay tuned to SacCityExpress.com for updates as this story develops.
Police Offer Details About Sac State Shooting by saccityexpress, captured by Luke Otterstad